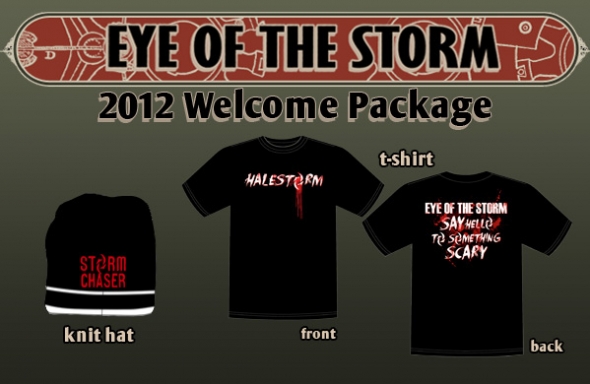 Eye Of The Storm - The Official Fan Club of Halestorm - has announced their 2012 Welcome Package and it includes some cool, exclusive items! Become a member today and receive the items listed below PLUS gain access to the Eye Of The Storm portion of Halestormrocks.com which features exclusive Halestorm contests, message boards, photos, video, news updates and much more. Members will also get access to PRESALE TICKETS AND VIP PACKAGES (when available). The new 2012 Eye Of The Storm Welcome Package is available as of RIGHT NOW! 2012 will be the best year yet for Halestorm and we wanted to represent that with a KILLER new package!
The 2012 Welcome Package includes:
- The 2012 Eye Of The Storm Exclusive T-Shirt 
- The Exclusive Storm Chaser Knit Hat (beanie)

All of the items pictured are included with your membership in 
The Eye Of The Storm website and all of these items are ONLY available to Eye Of The Storm members. BECOME A MEMBER TODAY! 2012 promises to be a HUGE year for the band and we want you to be a part of it. We're look forward to bringing you the best of Halestorm here in Eye Of The Storm!