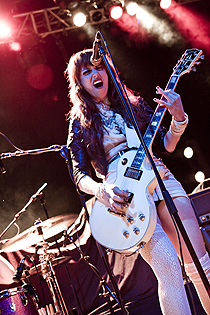 "As soon as the first tones of 'Love bites (and so do I)' were played, the people in the crowd immediately started singing along, dancing and being crazy. If this was due to her singing or her very sexy outfit (including mega high heels) I don't wanna judge. However, the band instantly had the crowd in their hands and delighted everyone with their music. The other thing that comes to your eyes after her outfit is the drummer. He is constantly moving around, playing the drums with all kinds of body parts (and even with other parts of the drums), throwing around drumsticks (and most of the time catching them again) and just being so much into his instrument and their music that it was just a pleasure to watch him. Oh and yes, he did a great job, of course."
"This was also shown again during his drum solo which was enjoyed by everybody in the audience. However, also Lzzy got a chance to prove that she has an amazing voice during a solo part about half way through the concert. This was quite impressive but also could have been a little shorter if you ask me. HALESTORM did an overall great job, leaving the audience no time to breathe between the songs. The band showed a wide variety of their current songs but also played one from their upcoming album - 'Freak like me' which was played after the question Lzzy appointed to the audience "Are you a freak like me?" (which was probably affirmed by everyone in the audience)."
- Anne Kuhfuß (Reflections of Darkness Magazine)
Click here to read more.